Atma Environmental provides a complete turnkey soil disposal management service that protects client interests by taking control of soil disposal costs and avoiding the accidental spread of contaminated waste on site, which can add to costs. In addition to soil classification and clean fill certificates (or 'Declaration of Use Statements' from July 2020), Atma Environmental can broker and manage the excavation, transport and disposal of all categories of prescribed industrial waste (contaminated soil) to landfill, or for reuse (if uncontaminated). This service can provide a number of benefits to clients.
Our Experience Saves Developer's Money When Getting Soil Disposal Management.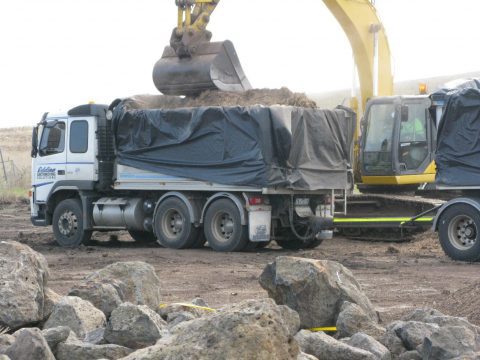 This photo shows our soil disposal management service – contaminated soil is loaded for offsite disposal at a registered landfill.
Firstly, if you have a significant volume of contaminated soil for disposal, our industry contacts enable us to pass on volume savings that are not normally available, meaning savings for you.
Second, we add value to the proposition by project managing the situation on site, and make sure that you don't end up paying contaminated soil disposal rates for the disposal of clean soil. This is extremely important because contaminated soil disposal rates are extremely expensive, and improper management of this process can make an order of magnitude difference to the cost of cleaning up a site ready for development. Value added management can include qualified onsite supervision to minimise the volume of contaminated soil and maximise the volume of clean fill, load tracking and landfill weighbridge reconciliation; as well as onsite hygienist services.
Thirdly, Atma Environmental will ensure that your waste is classified to the lowest justifiable disposal category possible and supplies detailed soil categorisation reports to ensure none of your trucks are turned back by the waste disposal facility for insufficient information.
Don't just trust somebody – employ Atma Environmental to ensure that you are only being billed for disposal of contaminated soil (not clean fill). And before you dig, contact our office to discuss the highly competitive disposal rates we can provide or browse our other site remediation services