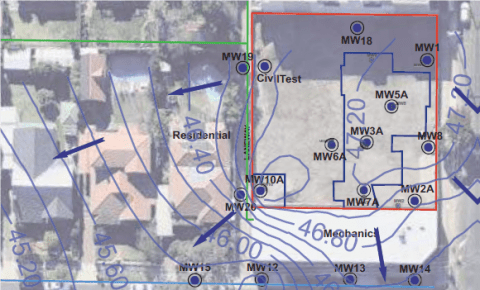 Atma Environmental has extensive expertise in both the preparation and implementation of groundwater quality management plans, or GQMP's.
Clean up and/or management of polluted groundwater should, where appropriate, be accompanied by a groundwater monitoring program, formalised in a GQMP. This should specify such details as the location and frequency of sampling, as well as the measurements (that is, groundwater elevation and lab analyses) necessary to evaluate whether clean-up/management is performing as required. Typically, the GQMP is an outcome of the clean up to the extent practicable – (CUTEP) process, where a groundwater quality restricted use zone – (GQRUZ) may have also been declared.
Specifically, preparation of the GQMP must consider:
Extent of the pollution
Contaminant type and properties
Local and regional hydrogeology
Beneficial uses of groundwater in the vicinity
Quality of existing groundwater data
Our Experience Saves Developer's Money When Getting Environmental Consulting.
GQMPs prepared by Atma Environmental will also set out 'trigger levels' to measure clean up /management performance, a contingency plan describing the necessary responses if trigger levels are exceeded, and any controls on the use of polluted groundwater during clean up/management.
Implementation of GQMPs involves the periodic monitoring of groundwater quality and occurrence – an area we excel in.
While onerous, groundwater monitoring under a GQMP may be ceased when certain conditions are reached. If you own a site having a current groundwater quality management plan, contact our office today to discuss how we can cost effectively help you meet your requirements for compliance with the plan.
The EPA publication on the clean up and management of polluted groundwater can be found here.