Our Experience Saves Developer's Money When Getting Asbestos Soil Remediation.
Atma Environmental has significant and demonstrated project experience where the demolition of asbestos-containing structures and improper waste disposal has resulted in contamination of land by waste asbestos, requiring asbestos soil remediation. The volumes of contaminated material involved can often be enormous and de-contaminating an asbestos-contaminated site requires the multi-disciplinary approach and careful project management inherent to our proven site operating procedures, which are overviewed and demonstrated in the video below.
Without a doubt, asbestos-contaminated sites represent a significant cost liability, due to the fact that it is often widely spread and the difficulty in removing it from soils.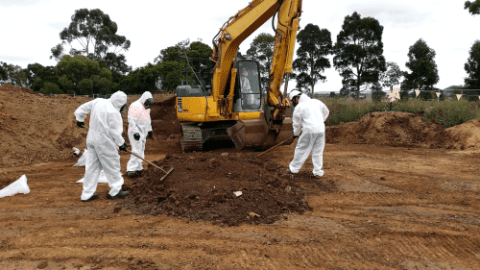 Atma Environmental's approach to the reclamation of land affected by asbestos is to ensure that the site is fully characterised so that the best and most cost-effective remediation option(s) can be recommended and deployed to restore the beneficial uses of the land. This includes considering the type of asbestos, its size and concentration, the nature of the soil matrix, presence of other contamination, site-specific and seasonal factors.
Atma Environmental professionally runs the remediation process with AIOH accredited in-house hygienists, contaminated land consultants and project managers to ensure the clean-up programme is conducted with minimal variation. For more information on the management and compliance of contaminated land click here.
For details on past projects involving asbestos soil remediation successfully completed, and advice on how we can remove asbestos from soil to reclaim your site, contact Atma Environmental on 9429 6955 now.
For more information on the management and compliance of hazardous materials click here